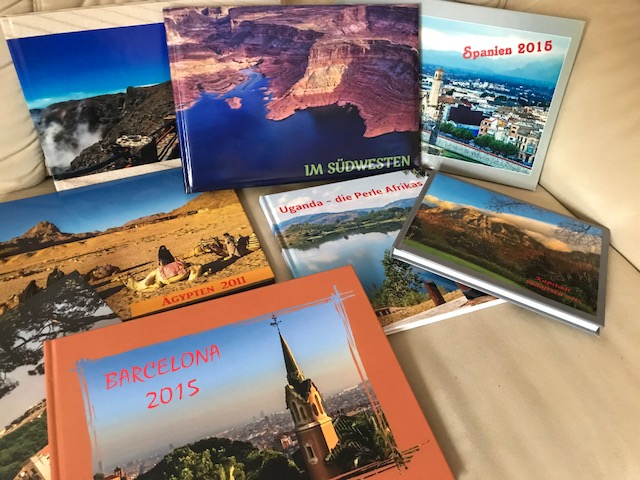 Den Fotos eine Seele geben / To give a meaning to your images
Ab heute bessere Fotos (7)
Wie Fotobücher wirken / The impact of photo books
English follows German
Wer heute Fotos macht, kommt an der digitalen Veröffentlichung nicht mehr vorbei: Facebook, Instagram und diverse Fotoportale locken mit dem schnellen Weg zu "Likes". Und jeder von uns kennt die Enttäuschung, wenn es wieder mal nur zwei oder drei sind oder unser Spitzenfoto von anderen kritisiert und oft niedergemacht wird. "Können wir wirklich etwas lernen, wenn wir dem Schnellimbiß der Likes verfallen?", so frage ich mich oft.
Die digitale Fotografie bringt es mit sich, dass wir unsere Werke oft auch nur digital verarbeiten und präsentieren. Doch welche Wertschätzung könnten unsere Fotos erhalten, wenn wir sie in alt-hergebrachter Art und Weise einfach drucken oder sie sogar in einem schön gestalteten Fotobuch präsentieren. Ein Buch gibt unseren Fotos die Würde und Wertschätzung, die sie verdienen. Der Spitzenfotograf David du Chemin schreibt in seinem Buch "Die Seele der Kamera", wir sollten unsere besten Fotos "bis zum Schluss begleiten". Und er stellt die Frage, was passieren könnte, wenn wir unsere eigenen Fotos für würdig genug halten, um Zeit und Geld aufzuwenden und in ein Fotobuch zu investieren.
Viele von uns haben es erlebt, wie anders die Beurteilung von Fotos ist, wenn sie in einem Buch veröffentlicht wurden, und wenn man sie anderen nicht nur auf dem Handy oder auf dem Tablet  zeigt. Dazu kommt, dass die Wirkung der Fotos anders ist, wenn sie nicht wie auf einem Bildschirm von hinten beleuchtet werden, sondern gedruckt vorgelegt werden.
Fotobücher für sich und andere
Anbieter für Fotobücher gibt es viele. Und einige habe ich bereits ausprobiert: Pixum, Cewe, Aldi, White Wall. Eigentlich bieten alle eine eigene Software an, die man mal mehr, mal weniger bequem runterladen kann oder die sich im Internetbrowser direkt verwenden lässt. Nachdem ich einige Anbieter getestet habe, wurde ich auf SAAL-DIGITAL aufmerksam. Meine Frage nach den Erfahrungen anderer Fotografen in diversen Foto-Communities auf Facebook erstaunten mich. Unter den vielen Kommentaren und Beurteilungen war keine einzige negative.
Im November 2017 bekam ich ein Angebot von SAAL DIGITAL, die mich mit einem 25-Euro-Gutschein für die Erstellung eines Fotobuches lockten. Da ich noch keine Erfahrungen mit ihnen gemacht hatte, habe ich mich bereit erklärt. Was dann folgte war eine kleine Odyssee, die sich über einige Wochen hinzog. Denn: Wer ein Fotobuch gestalten möchte, braucht vor allem eins, nämlich Zeit. Und die hatte ich über viele Wochen nicht. Immer wieder fragten die Mitarbeiter von SAAL bei mir nach, verlängerten Zeiträume und stellten neue Gutscheine aus. Also in Sachen "Geduld und Beharrlichkeit" verdienen die Fotodrucker einen Spitzenplatz.
Gestaltungserfahrungen
Im März ´18 war es dann schließlich so weit: Ich habe mir die Software runtergeladen (www.saal-digital.de). Erster Eindruck: übersichtlich, schnell bedienbar, logisch aufgebaut und kundenfreundlich. Die Preise der Bücher sind gegenüber anderen Anbietern im oberen Segment. Meine Erwartungen waren entsprechend hoch. Ich gestaltete ein Buch mit meinen Fotos der USA-Reise durch den Südwesten und stellte bewusst Fotos mit unterschiedlichen Stimmungen und Farb-Nuancen auf gegenüberliegende Seiten. Berg-Fotos neben Wasser, filigrane Stimmungen von Sand-Dünen neben Sonnenauf- und –untergängen. Aus meiner Sicht anspruchsvolle Vorlagen, die eine gute Drucktechnik voraussetzen. Ergebnis: Hervorragend!
Auch die Möglichkeit, Panoramafotos über den Falz auf einer Doppelseite zu drucken, hat mich begeistert. Druckqualität, Farbechtheit, Haptik liegen im oberen Qualitätslevel. Die Möglichkeit, die Umschlagseiten innen zu bedrucken, findet man auch nicht bei vielen anderen Anbietern. Von der äußeren Gestaltung habe ich einen wattierten Umschlag gewählt, der dem A4-Buch eine höhere Wertigkeit verleiht. Hat einen Heiermann mehr gekostet, aber hat sich gelohnt.
Lieferzeit phänomenal
Was mich verblüfft hat, war die Liefergeschwindigkeit! Ich habe das Buch an einem Dienstagabend online an die Druckerei geschickt und konnte bereits am Donnerstag (also zwei Tage später!) das Buch in Händen halten. Bei anderen Anbietern habe ich gut und gerne zwischen 5 – 8 Tagen auf das Fotobuch gewartet.
Kleiner Kritikpunkt: Ich kann durchaus verstehen, dass Anbieter ihre Daten in den Büchern verewigen möchten. Das macht SAAL DIGITAL auf der Rückseite in einem QR-Code. Warum der dann aber auch nochmal auf der U3-Seite gedruckt werden muss und damit das Bild versaut, ist mir schleierhaft. Auch dass man dafür extra bezahlen muss, wenn man den QR-Code nicht haben möchte, ist nicht gerade sehr kundenfreundlich. Da unterscheidet sich Saal Digital dann leider nicht von anderen Anbietern.
Fazit: Das Experiment, einen für mich neuen Anbieter auszuprobieren, hat sich voll gelohnt. Ich bin mit dem Ergebnis sehr zufrieden. Wer noch andere Berichte checken möchte, findet weitere Erfahrungsberichte anderer Fotografen auf You-Tube.
 
To give a meaning to your images
The impact of photo books


Anyone who takes pictures today will not be able to avoid the digital release: Facebook, Instagram and various photo portals will lure you on the fast track to "Likes". And each of us knows the disappointment when it's only two or three or our top photo is criticized by others. "Can we really learn something when we forfeit the fast food of likes?" I often wonder.

Digital photography means that we often process and present our works digitally. But what appreciation could our photos receive if we simply print them in the old-fashioned way or even present them in a beautifully designed photo book. A book gives our photos the dignity and esteem that they deserve. Top photographer David du Chemin calls this in his book "The Soul of the Camera", "we should accompany our best photos to the end". And he asks what might happen if we consider our own photos worthy enough to spend time and money and invest in a photo book.

Many of us have experienced how different the evaluation of photos is when they are published in a book than when you show them to others only on the phone or tablet. In addition, the effect of the photos is different if they are not illuminated as on a screen from the back, but presented in print.

Photo books for yourself and others

There are many suppliers of photo books. And I've already tried some of them: Pixum, Cewe, Aldi, White Wall. Actually, all of them offer their own software, which can sometimes be downloaded more or less easily, or which can be used directly in the Internet browser. After testing a few vendors, I became aware of SAAL-DIGITAL. My question about the experiences of other photographers in various photo communities on Facebook amazed me. Among the many comments and judgments was not a single negative.
In November of last year, I got an offer from SAAL DIGITAL, which lured me with a 25 euro voucher for the creation of a photo book. Since I have not had any experience with them, I have agreed. What followed was a small odyssey that lasted for several weeks. Because: Who wants to design a photo book needs, above all, one time. And I did not have that for many weeks. Again and again, the staff of SAAL asked me, extended periods and issued new vouchers. So in terms of "patience and perseverance" the photo printers deserve a top spot.

Design experience

So in March '18 it finally happened: I downloaded the software (www.saal-digital.de). First impression: clear, easy to use, logically structured and customer friendly. The prices of the books are compared to other providers in the upper segment. My expectations were correspondingly high. I designed a book with my photos of the USA trip through the Southwest and deliberately placed photos with different moods and color nuances on opposite sides. Mountain photos next to water, filigree moods of sand dunes next to sunrise and sunset. In my view, sophisticated templates that require a good printing technique. Result: Excellent!
The opportunity to print panoramic photos on the fold on a double page, I was thrilled. Print quality, color fastness, feel are in the upper quality level.
From the outer design, I have chosen a padded envelope, which gives the A4 book a higher value. The possibility to print on the cover pages inside, you will not find in many other providers.

Delivery time phenomenal

What baffled me was the delivery speed! I sent the book online to the printing house on a Tuesday evening and was able to hold the book in my hands on Thursday (two days later!). For other providers I have waited between 5 and 8 days for the photobook.
Small criticism: I can understand that providers want to immortalize their data in the books. That's what SAAL DIGITAL does on the back in a QR code. Why then but also again on the U3 page must be printed and messed up the picture, I am mistaken. Also, that you have to pay extra, if you do not want to have the QR code is not very customer friendly. Unfortunately, in this Saal Digital does not differ from other providers.
Conclusion: The experiment to try out a new provider for me, was fully worth it. I am very satisfied with the result. If you still want to check other reports, find more experience on youtube.